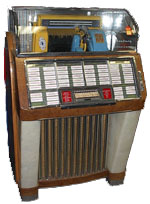 Jukebox
Price includes 30-day warranty. Delivery and setup is the same as service call fee. The warranty covers labor, parts and service call. Of course, the warranty cannot cover abuse. All working machines have Documentation (manuals & schematics) is provided where possible.
Machines can be set on free play so no coins are required or coin play depending on your preference. Some machines may be limited as to whether they can take any or just certain coins due to limited availability of parts.
Machines sold outside the local area are sold 'as-is' and have no warranty, and the buyer is responsible for shipping. For such sales the machine is deemed to be in good working order before shipping, and we are not responsible for damage during shipping. Reliable insured shipping is available from several sources, most being priced around $200 to $300 for shipping anywhere in the continental USA.
We cannot promise what will be available next week, however we can hold a machine for you if you put 50% down plus 25% for each 30 days to hold. This allows someone to purchase a machine and have it held until they are ready to take possession or so they can afford to purchase one. Canceling or changing which machine you buy forfeits 25% of the purchase price. Holding a machine for more 30 days after fully paid for requires a $1.00 per day storage fee. Unit is considered abandoned if not paid in full after 60 days
If you purchase a machine and decide you would like to trade it in for another, we offer a trade-in value of at least 50% of your purchase price as long as unit is working. Usually depending on length of time you've had the machine ad the condition its in
If you are interested in the details on any machine (condition, features, etc.) feel free to call or e-mail us.
Incomplete list of current stock
Items highlighted in yellow are consignment. They do not come with a 30 day warranty. One can be purchased for an additional $150.00.
---
Send inquires to: Coinopdoctor@aol.com